What is Community Based Policing?
Community policing is perhaps the most misunderstood and frequently abused theme in police management during this decade. In the past few years, it has become fashionable for police agencies to initiate community policing, often with little notion of what that phrase means. Indeed, all manner of organizational tinkering has been labeled community policing. But community policing is not a program.

Instead, community policing is a value system which permeates a police department, in which the primary organizational goal is working cooperatively with individual citizens, groups of citizens, and both public and private organizations to identify and resolve issues which potentially effect the livability of specific neighborhoods, areas, or the city as a whole. Community-based police departments recognize the fact that the police cannot effectively deal with such issues alone, and must partner with others who share a mutual responsibility for resolving problems. Community policing stresses prevention, early identification, and timely intervention to deal with issues before they become unwieldy problems. Individual officers tend to function as general-purpose practitioners who bring together both government and private resources to achieve results. Officers are encouraged to spend considerable time and effort in developing and maintaining personal relationships with citizens, businesses, schools, and community organizations. Here are some other common features of community policing:
Beyond crime fighting a focus on livability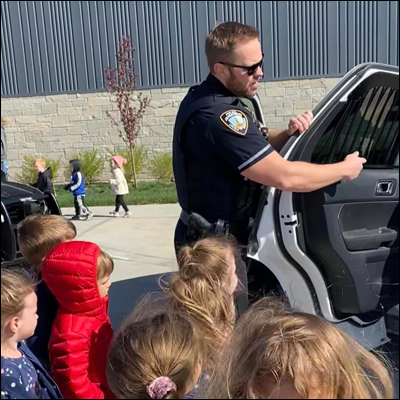 Many police departments and police officers define their role primarily in terms of crime control. The very term law enforcement agency is certainly an indication of this focus. But policing is much more than law enforcement. Many studies have shown that dealing with crime consumes only 10-20% of the police workload. Officers in community-based police departments understand that "crook-catching" is only one part of their job, and a rather small one by comparison to the myriad of issues and problems they deal with each day. Officers freely accept a significant role in issues that might be derisively referred to as "social work" in traditional police departments. Officers understand that resolving a problem with unruly people drinking at a public park, working to reduce truancy at a middle school, marshalling resources to improve lighting in a mobile home park, and removing abandoned vehicles from streets, may all be forms of valid and valuable police work, which affect the livability of a neighborhood. Rather than treating these activities as diversions from "real" police work, officers understand that this is the essence of their work.
Citizen Involvement

The police department strives to actively involve citizens in its operations, through a variety of means. Volunteers are widely used, whether college interns or retired seniors. Citizen patrols and crime prevention initiatives are welcomed and encouraged. Area commanders meet often with members of the public to solicit input and feedback. Many internal committees include public participation. Policy decisions typically involve opportunities for input from citizens, and the department has both formal and informal mechanisms for this purpose. Promotional boards include citizens. The department seeks to educate the general public about police work in various ways, including publications, web sites, public-access television, and town hall meetings. The department accepts and even encourages citizen review of its performance.
Geographic Responsibility
The primary division of labor for the police is geographical. Officers identify with their area of assignment, rather than the work shift or functional division. Commanders are assigned to geographical areas and given wide latitude to deploy their personnel and resources within that area. Individual officers adopt even smaller geographical areas and feel a sense of ownership for that area. Officers commonly know many of the people who live and work in this area, and are intimately familiar with the area's geography, businesses, schools, and churches. Officers seek out detailed information about police incidents which have occurred in their area of assignment during their off-duty time.
Long-term Assignment
Officers can expect to work in the same geographical area for many years. Officers' preferences for areas are considered in making assignments. Rotation of geographical assignments is rare. The organization values the expertise and familiarity that comes with long-term assignment to the same area.
Decentralized Decision Making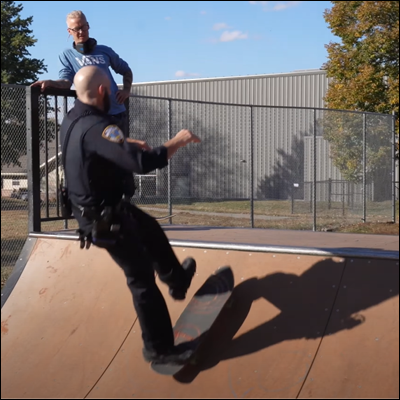 Most operational decisions are decentralized to the level of execution. Field officers are given broad discretion to manage their own uncommitted time. Operational policies are concise, and serve as general guidelines for professional practice more than detailed rules and regulations. First line supervisors are heavily involved in decisions that are ordinarily reserved for command ranks in traditional police departments.
Participative Management
The department employs numerous methods to involve employees at all levels in decision-making. Staff meetings, committees, task forces, quality circles, and similar groups are impaneled often to address issues of internal management. Many workplace initiatives begin with ideas or concepts brought forward from line employees. Obtaining input from frontline employees is viewed as an essential part of any policy decision. The department has comparatively few levels of rank, and rank is seldom relied upon to settle disagreements. Supervisors view their role primarily in providing support to field personnel by teaching, coaching, obtaining resources, solving problems, and "running interference."
Generalist Officers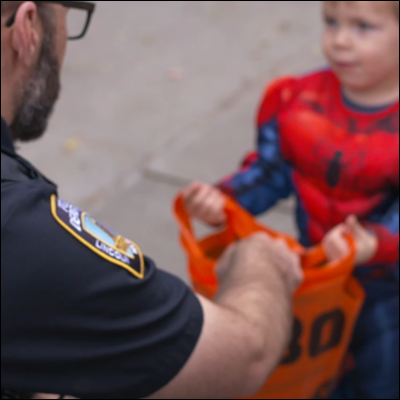 Field officers dominate the sworn work force. Officers are expected to handle a huge variety of police incidents, and to follow through on such incidents from beginning to end. Specialization is limited to those areas where considerable expertise is an absolute necessity. Even when specialists are used, their role is to work cooperatively with field officers, rather than assume responsibility for cases or incidents from field officers. Most specialists view their jobs as offering technical expertise and support to field personnel.
Police Leadership on Community Issues
Senior police managers are deeply involved in community affairs. They speak out frequently and freely on issues of community concern, some of which are only tangentially related to law enforcement per se. Police managers are encouraged to pursue important community issues as a personal cause. Elected officials consult with police managers often. Police representation is obligatory on committees or study groups which are set up to examine significant issues on the public agenda, and it is not uncommon for police officers to serve in leadership positions in community organizations.
Proactive Policing
The police department employs techniques to manage its workload in order to make blocks of time available for police officers to address identified problems. The police response to an emerging problem typically involves significant input and participation from outside the department. The department routinely uses a range of tactics other than responding to individual incidents, such as: targeted saturation patrol, bicycle and foot patrol, undercover/plainclothes/decoy/surveillance operations, educational presentations, coordination of efforts with other government or human service agencies, support to volunteer efforts, initiation of legislative proposals, and so forth.
Rather than merely responding to demands for police services, the department employees a Problem-Oriented Policing (POP) approach: identifying emergent problems, gathering data, bringing together stakeholders, and implementing specific strategies targeting the problem. The police response to an on-going or repetitive problem seldom involves only police resources. The police are concerned not only with high-visibility crimes, but with minor offenses which contribute to fear of crime, and negatively effect public perception of city or neighborhood safety.
Emphasis on Quality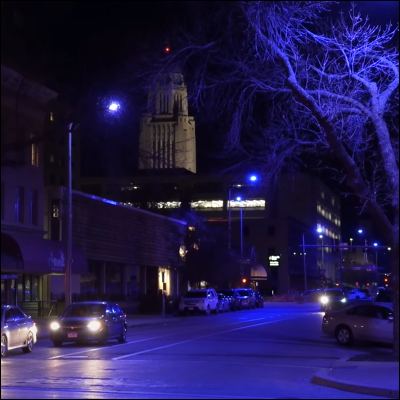 The police define success and accomplishment primarily by the results achieved and the satisfaction of the consumer of services, rather than by strictly internal measures of the amount of work completed. Thus, there may be decreased emphasis on common productivity measures such as clearance rate, numbers of arrests, response time, etc., and increased emphasis on outcomes. Thoroughness and quality are clear emphases, but "doing the right thing" is as important as "doing things right." The department employs methods to assess public satisfaction with services, and both individual officers and managers think about ways to improve based on this feedback.
Recognition and Professional Development
Officers receive frequent recognition for initiative, innovation, and planning. The department systematically acknowledges problem-oriented policing projects that achieve results. Seasoned field officers are highly valued for their skill and knowledge, and feel little pressure to compete for promotion to supervisory positions in order to advance their career. Commendations and awards go to officers for excellent police work of all kinds, not just crime control. Officers receive the respect and admiration of their colleagues as much for their empathy, compassion, concern for quality, and responsiveness, as for their skill at criminal investigation, interrogation, and zeal in law enforcement.