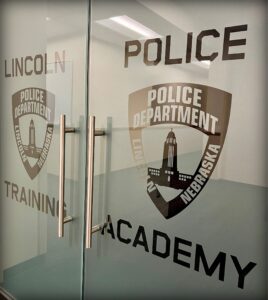 ACADEMY
Candidates who are offered and accept employment with the Lincoln Police Department must undergo academy training, which is 23 weeks in length. It is a classroom style academy that meets Monday-Friday in Lincoln. Recruits do not live-in and are not subjected to a boot-camp atmosphere.
New recruits are initially appointed as police trainees, and are paid $32.84/hour while attending the academy. Those successfully completing the academy are appointed as commissioned police officers with commensurate salary and benefits, and begin a field training and evaluation program.
FIELD TRAINING
The field training and evaluation program takes approximately 22 weeks to complete. During this training phase, the new officers are assigned to work with a designated field training officer whose job is to train and evaluate their performance. New officers are rotated to a different field training officer every four weeks. New officers must reach an acceptable level in all performance areas by the completion of the program. Successful officers are then transferred to the Operations Division for solo team assignments.
Officer duties fall into four main categories: traffic, crime control, social control, and management which occur with considerable regularity and overlap into several different areas. The responsibility of traffic control encompasses traffic accident prevention, traffic law enforcement, and maintenance of orderly offenses and the apprehension of offenders. The duty of social control occasionally calls for an arrest or the application of the law as a means to restore order. Management includes tasks intended to ensure the efficient and effective application of resources in coping with identified police problems.